Maria Hakobjanyan, active member of the Armenian community of Belgium, tells about activies related to the Artsakh war in Brussels and other cities.
Text: Viktorya Muradyan
Photos: twitter.com/ArmMinasyants
"The Armenian community in Brussels has been very active and involved in this movement since the beginning of the war. We were in contact with the Embassy and also the police. Being in the heart of Europe and having all European Institutions so close we were eager to show them the truth and to raise awareness about what was happening in Artsakh. I have been living in Belgium for 20 years and it was the first time when I saw so many people trying to help or take part in our activities. The structure and equipment was provided by the Committee or Associations, but there was a huge number of people from all over Belgium and surrounding countries who were trying to help. There were different working groups organized among us, based on activity and we were in permanent contact together. Only 3 days after the Azerbaijani army attacked Artsakh, on the 1st of October we organized our first manifestation in front of the European Union External Actions building and the European Council building. On 7th October while the European Parliament was discussing the question of Nagorno Karabakh and Azerbaijan we had our Pan-European manifestation, which gathered participants coming from France, Germany, the Netherlands and Spain. We were more than 5000 people. Different deputies and parliamentarians like François Alfonsi, Peter Van Dalen, Andre du Bus, Georges Dallemagne, the Minority representatives in Belgium , like Yézidis of 'Europe, Syriac, Arameeans in Belgium, Chaldean Church, Committee of Armenians in France, the Netherlands and Germany, were speaking at our demonstrations. Our goal was to seek for the Recognition of Artsakh, to stop the Turkish involvement in the Nagorno Karabakh conflict, to stop the Azerbaijani aggression.
When the European Parliament voted for neutrality, our participants closed the area in front of the European Council and European Commission Berlaymont building in a peaceful protest, blocking all the roads that gave access to the city. Despite the high number of participants, there were no aggressive or provocative actions. Some of us also came up with the idea of Silent Flash Mobs, inspired by the Covid restrictions. All conditions of masks and distancing were respected.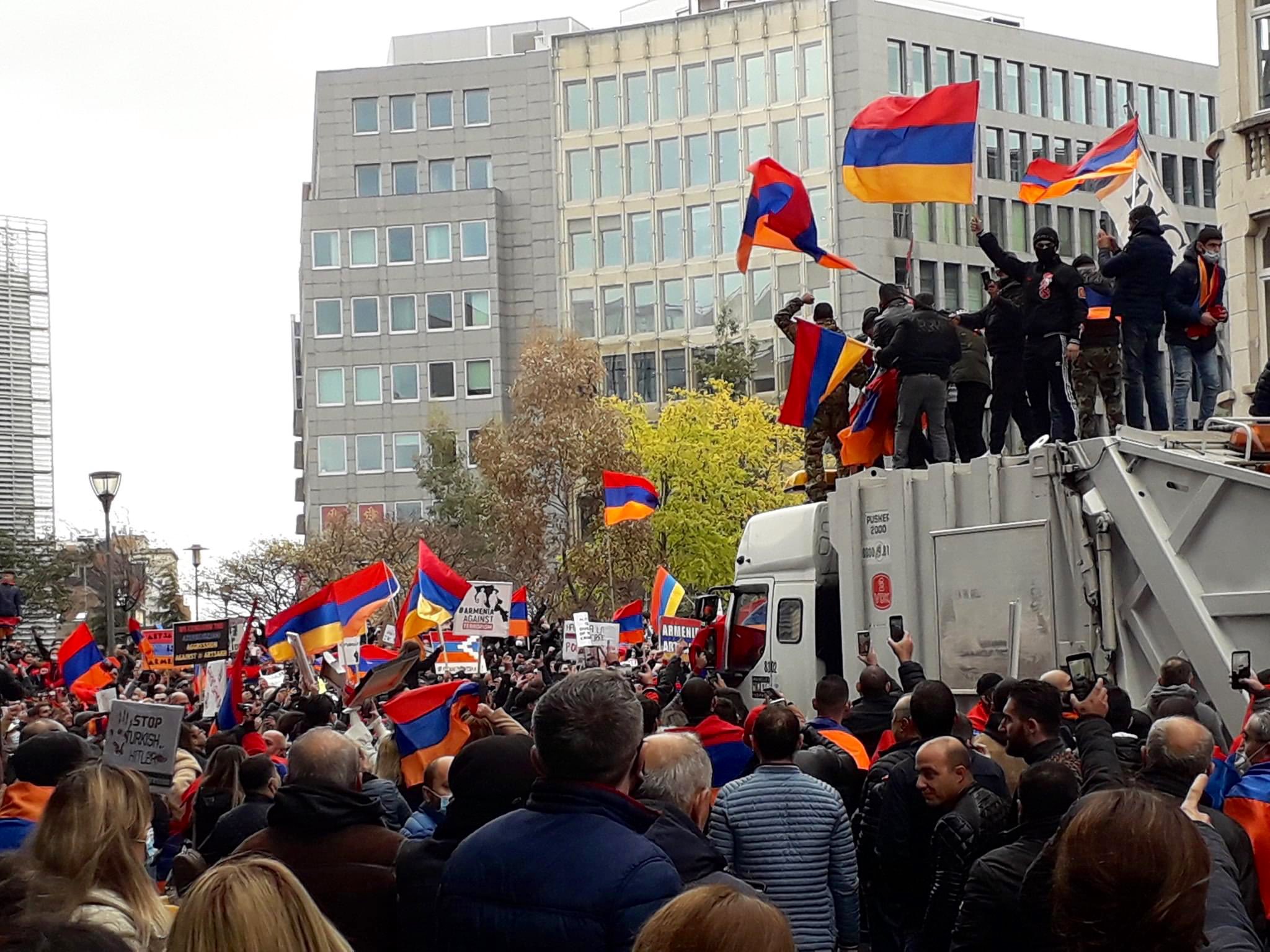 With the Committee of Armenians, I organized 2 silent protests, one in front the European Parliament, the other in front of the Opera, which is a very animated area in Brussels. The first demonstration's objective was to draw the attention of the European deputies, the second was more about informing the population. We distributed more than 100 flyers. In total, we have been able to mobilize around 8000 people during more than 10 rallies, campaigns, protests and flash mobs. I've met amazing Armenians during the last month and we can't wait to celebrate victory together."