Text: Tigran Zakaryan
Evers since the outbreak of hostilities in Nagorno-Karabakh (Artsakh) in the early hours of 27 September, many wonder what Russia's position would be. Moscow has multiple and overlapping connections with Yerevan and Baku; on one hand Russia is Armenia's formal ally in the Collective Security Treaty Organization, on the other it is has strategic ties with Azerbaijan in the same time being a key member of the OSCE Minsk group co-chairmanship, mediating peace talks on Nagorno-Karabakh since 1992.
Russian Foreign Ministry and its top official Sergey Lavrov have repeatedly expressed their concern at the resumption of hostilities and called on to immediately stop them since 27 September. Lavrov has also actively engaged with his Turkish counterpart, holding a phone conversation with Mehmet Cavusoglu even before calling Baku.
Official brief and vaguely-worded information on Putin's two phone conversations with Prime Minster Nikol Pashinyan also was very concise, just mentioning Russian call for stopping hostilities and taking steps towards deescalating the situation.
Meanwhile Yerevan underlined from the very beginning of this new war in Karabakh Turkey, unlike previously, was very actively involved in the conflict. Moscow is officially considered a warrant of Armenian security, specifically against Turkey and it was only plausible that Moscow could interfere into the matter. Moscow's reaction ultimately came, however it was not as quick and as strong as it could be expected from an ally.
While on 28 September 2020 Russian President's spokesperson Dmitri Peskov expressed only "preoccupation" and urged to stop all hostilities, the wording of his statements changed the next day.
On 29 September Peskov statement included a passage on the intervention of "third parties" into the conflict, worded as follows: "Any statement on military support to either party is clearly adding fuel to the fire. We call on to all countries, particularly our partners, such as Turkey to do everything for the conflicting parties to cease hostilities and return to the peaceful resolution process". However it seems that such concern comes at a cost, namely the demand for deploying peacekeepers in the conflict zone.
Apart from official responses there were a number of different foreign policy experts, who expressed their views on the currently activated stage of the conflict, which threatens to engulf more players. The opinions could greatly vary at what Russia should do in Karabakh, but what they agreed upon was the point that Yerevan should not be left alone against Ankara, should such a necessity arise.
Meanwhile there were opinion like that of pro-Azerbaijani Igor Korotchenko, editor-in-chief of the Natsionalnaya Oborona magazine who speaking on the Russia-1 Public TV channel said Armenia must accept the Kazan project of the resolution, elaborated by the OSCE Minsk group co-chairs. The project's gist was handover of seven districts currently under Karabakhi control to Azerbaijan in exchange for unblocking communications.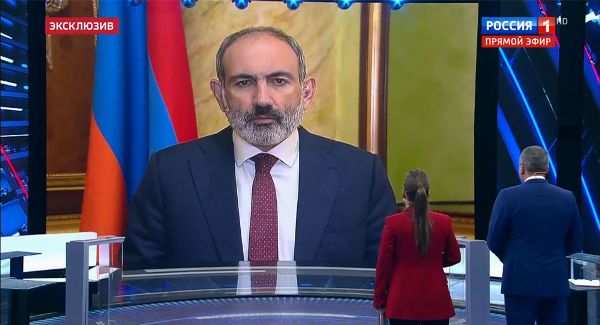 Nikol Pashinyan's interview in "60 Minutes" show on Federal Russian TV
Some experts were showed their hostility towards Pashinyan accusing him of distancing Armenia from Moscow. One of such many cases was Vasiliy Koltashov who appearing on the pro-Kremlin RBK channel told that the reason for the current war were the "grave diplomatic errors" by the Armenian leadership, who chose to "distance" from Russia and accused Yerevan of "ingratitude" towards Russia.
He also suggested that in case Armenia applied for the CSTO support, Russia could help on the conditions of "economic integration" which effectively sound like loss of Armenian sovereignty, especially taken into account the expert's opinion that Moscow could "benefit" from the war.
There was no unanimity towards the issue of Turkish involvement in the conflict among the analysts. Arkadi Dubnov, an expert sometimes describe as pro-Armenian suggested that Turkey vies for regional leadership and the war in Karabakh was a part of that, in the same time criticizing the Kremlin for "not accepting the challenge․" He also suggested that by not openly backing Yerevan Moscow could undermine its prestige in the post-Soviet space.
Meanwhile another expert, Timofey Bordachev from the renowned Valday Club speaking on RBC dismissed the anchor's suggestion that the current war was a proxy conflict between Russia and Turkey.
Meanwhile the issue of strengthening Moscow's influence in the region through the deployment of Russian peacekeepers in Karabakh was discussed by many experts. Whereas the issue is a delicate one and such idea is rejected by both Armenians and Azerbaijanis, the idea was almost never publicly articulated by any senior Russian official, instead leaving that job to experts, journalist and politicians of second rate. A fresh example is Sergey Mironov, the leader of the minor Just Russia party, loyal to Putin, who expressed such a position.
An attempt to "test the ground" was made by notorious pro-Kremlin propagandist Vladimir Solovyov during his interview Artsakh Foreign Minister Masis Mayilyan, by directly asking him if the only way to establish peace was the Russian presence in the area, to which the latter answered negatively. Yet the anchor blatantly suggested that the alternative was a war in way, giving many in Armenia reason to believe that Solovyov could be uttering an ultimatum by the Kremlin.
Solovyov in his overly frank style discussed the Karabakh conflict with another pro-Kremlin expert Semen Bagdasarov, both heavily criticizing Pahsinyan's team and its perceived "pro-American" stance.
Semen Bagdasarov in Solovyov's program
Interestingly enough another Kremlin propagandists, Margarita Simonyan, chief of the RT channel, posted on her Telegram channel a snapshot of the interview writing down an "ultimatum" to Pashinyan, including among others establishment of new military bases on the territory of Armenia.
All this stays on the non-official level, however affects relations to a certain degree. It is no wonder that in a recent interview with the Spectator Pashinyan described Russian position in the conflict as "neutral." This stands in sharp contrast to the practice of previous Armenian leaders who used to "thank" Russia for its role.
Moreover, Armenia, in spite of direct attacks of its sovereign territory by Azerbaijani and presumably Turkish forces is not inclined to apply to the CSTO, understanding that it could compromise Armenian independence.
In a war waged for independence Armenia seems to be determined not to yield whatever the cost might be.