Text: Tigran Zakaryan
Since the outbreak of the civil war in Syria, Ankara has been mastering the art of producing its own proxy forces who were transferrable from one war scene to another, wherever Turkish would chose to intervene. Days after the July conflagration on the Armenian-Azerbaijani border the Russian TASS agency said that unnamed officials from both Turkey and Azerbaijan denied reports by the Kurdish Firat agency on transferring Syrian militants to the conflict zone by Ankara.

Yet it seems that Moscow was not convinced of the assurances by both officials. On 1 September the Russian Nezavisimaya Gazeta newspaper referring to "certain Telegram channels" reported on the presence of ca. 500 Syrian fighters – mainly ethnic Turkomans from the militant factions Sultan Murad, the Free Syrian Army and Hamza Division in Azerbaijan. Azerbaijan's Defense Ministry was quick to deny such reports, immediately kicking off a blame-game alleging that Yerevan was recruiting mercenaries from the Middle East, including Syria and Lebanon "under the guise of militia".

The Armenian official reaction initially was low-key, articulated by officials such as advisor to the Foreign Minister.

On 24 September the Firat news agency once again reported on a transfer of some 300 mercenaries to Azerbaijan by Turkey, citing a report by the Syrian Observatory of Human Rights organization. The source said that the mercenaries claimed they were being transferred to Azerbaijan to "guard the borders" for a remuneration of some 1,500 to 2,000 US dollars.

Greek City Times was another source, that citing a renowned journalist Lindsay Snell, said that new groups of islamist militants from the infamous Hamza Division were being transferred to Azerbaijan. The article carried also some snapshots from Snell's Twitter account with photos of the militant group members in a plane presumably heading to Baku. The paper, based on the evidence provided by the journalists in her Twitter account said that more militants were expected the following days and the majority of them came from Syria, however some 70 of them were coming from Libya.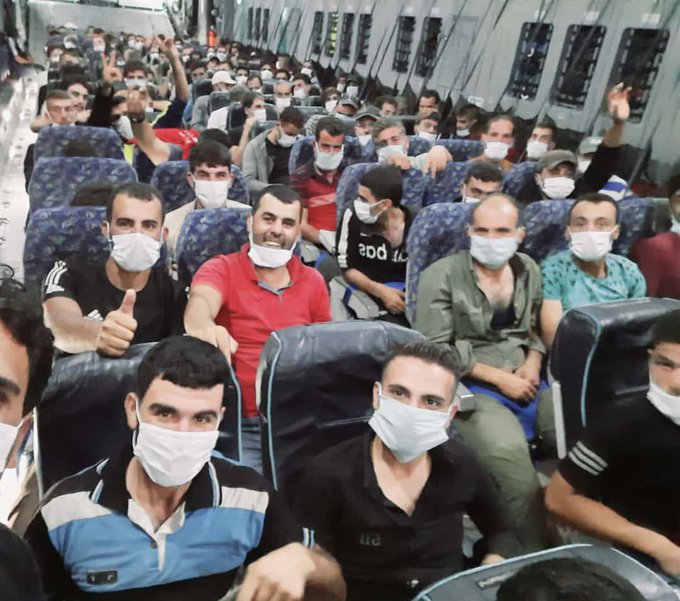 From Lindsey Snell's twitter

Circulation of reports on the presence of pro-Turkish islamist militants in Azerbaijan became much more intense after unleashing full-scale military operations in Nagorno-Karabakh after 27 September.

Human Rights organization Afrin on 27 September claimed that the total number of the pro-Turkish fighters transferred to Azerbaijan was 4,000 and 80 of them had been killed in action against the Armenian forces in Nagorno-Karabakh. The source also provided their specific militant group affiliations with respective number of casualties and specified some islamists' names. Evidence provided from various sources became increasingly substantial, so the Armenian officials abandoned their previously cautious attitude. The Armenian Foreign Affairs Ministry's statement on the "Azerbaijani aggression against Artsakh" issued on 28 September, among other things said that "according to credible sources, Turkey is recruiting and transporting foreign terrorist fighters to Azerbaijan."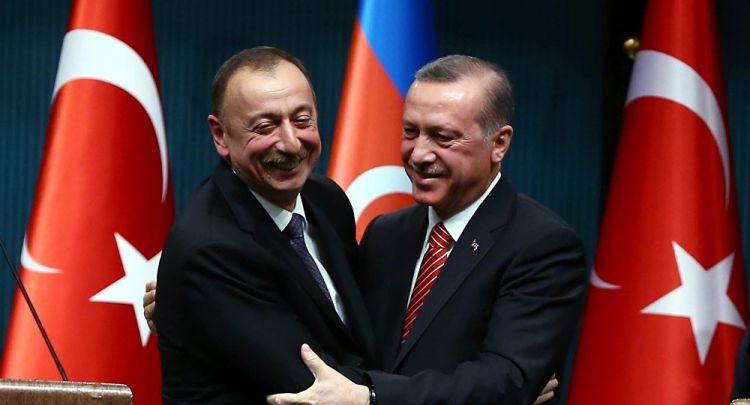 Ilham Aliyev and Recep Tayyip Erdogan

The official standpoint was also reflected by the Armenian ambassador to Russia, Vardan Toghanyan, who according to Ria Novosti said that "recently around 4,000 militants were transferred by Turkey to Azerbaijan," adding that "they were trained in special military camps."

It seems unlikely that Turkey will any time soon cease delivering fresh cannon fodder to their Azerbaijani brethren, one such indication being a fresh report by the same Human Rights Organization Afrin, which says that Turkey opened new recruitment centers in Afrin for mercenaries bound for Azerbaijan.